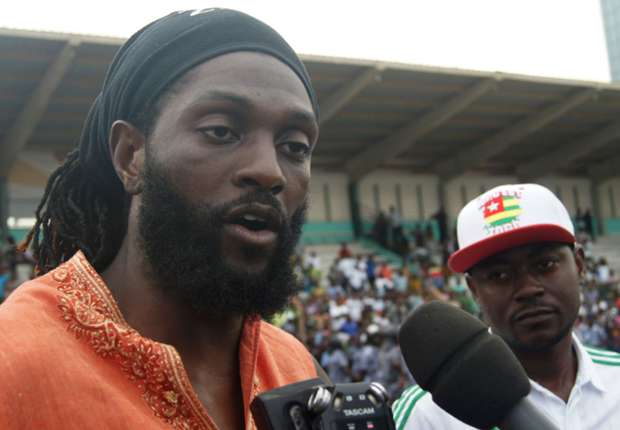 The 32-year-old striker was an important member of the Big Boss' Togo side, and despite their differences, has mourned the demise of the legendary manager.
Togo captain Emmanuel Adebayor has mourned the loss of erstwhile coach Stephen Keshi who passed away earlier this month from a heart attack aged 54.
Keshi qualified the Sparrow Hawks for their first and only World Cup finals appearance in 2006 and in the first of two spells in charge of the national team. Adebayor was a prominent member of the squad under the former Nigeria international, and has described his former gaffer's demise as a "great loss to African football".
"I knew Keshi when I was very young. He taught me a lot in my career. His death is a great loss to African football," Adebayor told
AFP
.
Adebayor was speaking in the aftermath of an exhibition game played in Lome on Sunday in honour of the late tactician. The game, watched by a crowd of almost 8,000 fans at the Municipal Stadium, was between the current Togolese national team and Keshi and Friends. It ended 6-2 in favour of the Hawks.
Keshi and Adebayor were involved in a bitter dispute that came to a head when the latter was left out of Togo's opening game at the 2006 Africa Cup of Nations, a 2-0 defeat to DR Congo. The official line was that of an injury to the then Arsenal striker, but reports later emerged that there was in-fighting on the Togo team bus, with Keshi being restrained by the rest of the squad from a fist-fight with the player.
Keshi, it emerged, felt he was owed a fee for the the player's move from Monaco to Arsenal in the 2006 January transfer window.